After my organizational culture consulting firm, Universal Consensus, LLC, was acquired by Ernst & Young, I led organizational transformation there for a time. I had developed intellectual property around organizational transformation, including an assessment instrument that evaluated the existing organizational culture state, the idealized state and the gaps that existed between them. What I will cover in this article, is the journey I took to understanding that the primary obstacle to culture transformation, was sustaining culture transformation over time. I will also tell you why technology presents new avenues to create new meaningful change.
While I was at EY, one of the female leaders there, who was not even located in the same geographical P&L, believed in me. She sent me to EY's innovation center in Kerala, India, to operationalize my culture transformation methodology. At the time, I didn't know how anyone could do that, having had limited exposure to technology development, but I did know that the Kerala team included 40 PhDs who surely did. At the time, "nudge messaging" was not a concept that existed and AI seemed more science fiction than science. My team and I were not there to leverage what is now known about the neuroscience of behavior change. We were there to create a means by which to assess and optimize culture through a series of organizational events, initiatives, communications campaigns, and change management.
I have known for a long time that, for any enterprise-wide transformation to be successful, the behavior of the leaders within the organization is the fuel necessary to drive the transformation engine. To accomplish that, every leader and manager of people must understand the goals of the transformation (the intended end-state), know the reason behind the transformation (the business case and motive for getting it done) and work tactically towards various strategic milestones.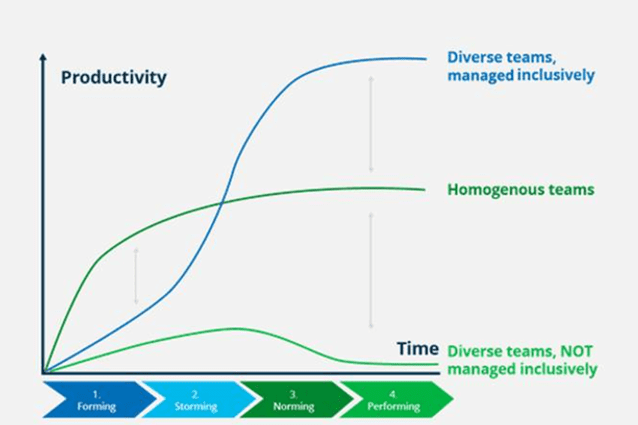 I also knew that if I couldn't get those same individuals to change their behaviors to align with the desired transformation, it would fail. And what's more, I knew that we were lacking the tools to sustain those behaviors and scale the transformation. Thus, even after my team had "operationalized the assessment," leading culture transformation efforts made me feel like a charlatan. I knew that I could create momentum and even the optics demonstrating movement in the right direction, but I also knew that these efforts were incredibly difficult to scale and even more difficult to sustain.
Fast forward several years since leaving EY, and I am now the Founder and CEO of a company called Lead Inclusively, Inc. My initial vision was to create a consultancy with a winning methodology for inclusion transformation journeys, from initial Diversity & Inclusion strategy and measurement to learning development opportunities that move leaders from unconscious bias awareness to understanding and using inclusive behaviors, through to assessment tools measuring organizational D&I maturity to monitoring and improving leadership behaviors that would enable use of inclusion as a lever for business performance.
Within a few years, we had accomplished most of what we set out to do. Our initiatives for enterprise clients were yielding excellent results. We saw a reduction in attrition among key demographic groups, including women. We saw increases in employee engagement. We saw qualitative improvements in team interaction, productivity and innovation. What we had not solved for was the sustainability of those efforts. We continued to find, even among the most well-intentioned leaders and managers, that their awareness of their own biases and their ability to retain information on inclusive behaviors waned over time. 
This knowledge waned over time for completely normal human reasons. Namely, leaders were unable to access the information when they needed it, in real-time, at moments where they could practice it, implement it and embed it in their teams. Where was that vital handbook or binder, the laminated check-list or eLearning login information as they walked into a meeting or got ready to conduct a performance evaluation? Where were the tips for conducting an unbiased interview or performance evaluation, right as they stepped into the room to conduct that activity?
Thus, the challenge was presented — we knew we had to research the principles of the neuroscience of behavior change to determine what aspects of that could be leveraged through technology. We were determined to create an app that would help leaders and managers to practice inclusion in real-time when they actually needed it, rather than relying on their recall from training they attended three months ago or an eLearning they logged into out of boredom while waiting for a flight.
And so the Lead Inclusively Virtual Coach® App was born. It uses the principles of neuroscience we researched to transform and sustain leadership behaviors. The initial use case is indeed with "inclusion;" specifically, the behaviors that support an inclusive organizational culture. But we have started working on other use cases. These include enterprise leadership standards and goals, organizational values and other organizational transformations. Just a few examples include a hospital trying to reduce mortality rates by coaching compliance behavior, a firm in the finance sector wanting to sustain behaviors associated with integrity, and a manufacturer wanting to transform to and sustain a culture of safety.
The Inclusion Virtual Coach® App utilizes nudge messaging and AI to deliver state-of-the-art microlearning, in real-time, focused on the leader's priorities. These reminders are no longer than a simple text message, making them easily absorbed by even the busiest leader among us. The app schedules the date and time of meetings, performance evaluations and other events where inclusive behaviors can make a difference. It then delivers nudge messaging with tips for inclusive behaviors, right before the event. This delivery mechanism solves the major impediment to behavior change that hindered our progress in the past. As it turns out, one of the major principals of behavior change is being able to absorb knowledge and utilize it immediately, not just passively acquire the knowledge and write notes about it, hoping to recall it at a critical but undefined moment in the future.
There are several other aspects of behavior change that are incorporated in the app as well, like providing explanations of why inclusive behavior is important in the context of the event scheduled, and providing the opportunity to reflect on the learning in a 30-second, real-time, voice-to-text journal. The use of AI, through machine learning, is also gradually being employed so that the app gets smarter and more personalized as each user interacts with it. Over time, the app can deliver information optimized to a user's learning style, subject-matter interests, and preferred content format, from articles to podcasts to videos.
We are now moving to the next phase of the development of this technology, including a controlled study in conjunction with Rice University's Doerr Institute of Leadership to determine levels of adoption, engagement, behavior change, outcome metrics and more. As we move forward, we do so with great optimism with the enterprise clients who have believed in our vision and supported us. These clients are now using the app to be the best they can be and to support their leaders and managers on their terms, their schedules, according to their priorities. We are so excited about what this new level of learning and development means and what we can do together when we use AI as a positive force for change.
What do you think?
Are leaders of people (from c-suite to manager level) the key to sustaining culture transformation? And do you think technology could provide new solutions and opportunities? I would love to hear your thoughts and invite you to join our newsletter if you care to keep up with future conversations like this one.
---
About Lead Inclusively
Lead Inclusively is a technology-enabled Diversity and Inclusion Consulting firm devoted to developing leaders, teams, and organizations to leverage Diversity and Inclusion as an accelerator for business performance. Our collective experience has been that diversity only assures that we have a mix of different people in the workplace. Diverse people in a non-inclusive workplace may be retained for some period of time, but without inclusion, they will not thrive, advance, or become strong team collaborators. Our Unique Diversity and Inclusion solutions ensure impactful and sustained transformation in your Leadership Development, Culture, Team, and Performance.