As many of you may know, Mckinsey recently released its 2019 "Women in the Workplace" report. In what is widely considered the primary barometer for the state of gender equity in the workforce, the report highlights a continuation of many trends. Of them, the most notable is the continued stagnation of women in leadership positions starting at the manager level which in turn impacts workplace gender parity as a whole.
Despite making up almost 60% of bachelor's degrees, and 50% of entry-level hires, women continue to be left behind when they reach the Manager level and beyond. While the presence of women in senior leadership has risen, the continued lack of progress in this area continues to be the single most important factor that continues to hinder workplace gender parity.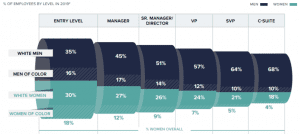 All this despite increased awareness, effort and even public outcry (e.g. the #Metoo movement) all calling for more progress. What needs to change is workplace culture. By building a culture of trust and collaboration we can slowly enable Men AND Women alike to build more equitable workplaces and slowly eradicate gender inequality. Here's how:
Career Planning for Longterm Success – How it Affects Gender Parity
In a recent conversation with Dr. Marshall Goldsmith, discussed the fact that women are more likely to sacrifice their careers for their jobs. In other words, women can be more focused on the day-to-day responsibilities of their jobs while losing focus on what might benefit their long term careers. Women can also be more concerned with the negative impacts of their own career advancement on their current teams.
What women can do:
Women can start by not being apologetic for thinking about their long-term careers and what might benefit them as individuals. It is always okay to do a good job day-to-day with an end-goal of something bigger or unrelated to one's current job! This change in mentality has also helped many professionals avoid the 'indispensable in current role' syndrome that plagues many.
What men can do: 
Understand and acknowledge that many women have the same career ambitions as many men. They simply go about their day-to-day business slightly differently. This knowledge can help companies re-evaluate the way individuals are considered for promotion.
Building and Leveraging Mentorship Relationships
47% of HR Leaders say that the biggest obstacle to advancing women is the fact that women are less likely to receive the necessary sponsorship. And the facts corroborate this. Women are statistically far less likely to receive a job recommendation or be put on a stretch assignment. These are both major factors that contribute to promotions and are influenced by the presence (or lack thereof) of an advocate in their professional life.
What women can do:
Women are often far less likely to advocate for and promote themselves than men. The average female professional will rate her own job performance significantly lower than the average male professional, despite both performing at the same level. Women should practice being more self-promotional and advocating for their work. It may feel awkward at first, but it is an effective and even necessary skill to cultivate.
What men can do:
Because women are often less self-promotional, less likely to ask, and less likely to receive the same mentorship and opportunities, take it upon yourself to offer sponsorship to female colleagues, and offer assistance in these areas. On the flip-side, also be careful not to succumb to the unconscious bias that perceives women who own their achievements as arrogant or not team players.
The role of collaboration, respect, and Inclusion in Achieving Gender Parity
Gender parity can only be achieved and sustained if it is built on the collective success of everyone. When inclusive gender parity is reached, workplaces thrive. Inclusion is the first step to bridging the gaps between men and women in the workplace. Both men and women can contribute to inclusion to catalyze the necessary trust, respect, and collaboration that will drive EVERYONE's collective success.
What do you think?
How can men and women advance gender parity in a way that is fair and equitable? How can inclusion be the catalyst for fostering workplaces that promote belonging and how does that factor into gender parity? Dive deeper into the topic during this webinar or join the discussion during an upcoming virtual-live Q&A.
---
About Lead Inclusively
Lead Inclusively is a technology-enabled Diversity and Inclusion Consulting firm devoted to developing leaders, teams, and organizations to leverage Diversity and Inclusion as an accelerator for business performance. Our collective experience has been that diversity only assures that we have a mix of different people in the workplace. Diverse people in a non-inclusive workplace may be retained for some period of time, but without inclusion, they will not thrive, advance, or become strong team collaborators. Our Unique Diversity and Inclusion solutions ensure impactful and sustained transformation in your Leadership Development, Culture,  Team, and Performance.