---
Do you have a company culture problem?
These days, company culture is more important than ever. It is instrumental in differentiating one company from another and bridging the gap between the c-suite to the entry-level. While most C-level executives recognize the importance of strong company culture, only 28% of executives believe they understand their company culture, and only 12% of executives believe their companies are driving the "right" culture. Here are three signs you may have a company culture problem. 
Team members are under-performing. 
Assuming that organizations are hiring qualified employees, a case of underperforming staff is an opportunity for leadership to better understand potential flaws in an organization's culture. Statistics show that lagging productivity is often tied to employee engagement, which results from a number of culture challenges. Failing to address the underlying factors at play can contribute to compounding issues in performance and culture alike. 
Leadership is not living up to organizational standards, value, or brand.
72% of employees are highly engaged in organizations with effective leadership. Leaders in a weak culture commonly don't adhere to, and often don't even know, their organization's values and leadership standards. This scenario can result in severe ramifications. Poor leadership can have a rapid trickle-down effect through an entire organization. It can erode talent and culture alike. Weak culture and weak leadership handicap an organization's ability to attract, retain and advance top talent, ultimately hindering its performance and growth.
Employee engagement is a lagging.
Employee engagement is a barometer of culture. 86% of employees in strong cultures feel their senior leadership listens to their employees. Employees that feel included and empowered are more invested, passionate and satisfied, which also reflects in innovation and output (link to leadership that unlocks innovation). Inclusive leadership is the foundation of a strong organizational culture and the primary force that upholds it over time.What are some other common leadership shortcomings that can damage organizational culture, employee engagement, and overall performance?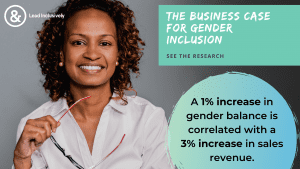 Culture is extremely complex, but also absolutely instrumental in changing the way your talent, and teams perform over time. Download our White Paper to see how inclusive leadership can be THE catalyst for a healthy organizational culture that drives employee engagement, retention, advancement, and team performance.  
 You are also welcome to join the discussion live to share your experiences and crowd-source solutions during our upcoming webinars.
---
About Lead Inclusively
Lead Inclusively is a technology-enabled Diversity and Inclusion Consulting firm devoted to developing leaders, teams, and organizations to leverage Diversity and Inclusion as an accelerator for business performance. Our collective experience has been that diversity only assures that we have a mix of different people in the workplace. Diverse people in a non-inclusive workplace may be retained for some period of time, but without inclusion, they will not thrive, advance, or become strong team collaborators. Our Unique Diversity and Inclusion solutions ensure impactful and sustained transformation in your Leadership Development, Culture,  Team, and Performance.